We believe our waterproofing contractors servicing Sydney, are amongst the best in the trade. It's part of our DNA and philosophy to provide the highest levels of customer service and to take pride in our work.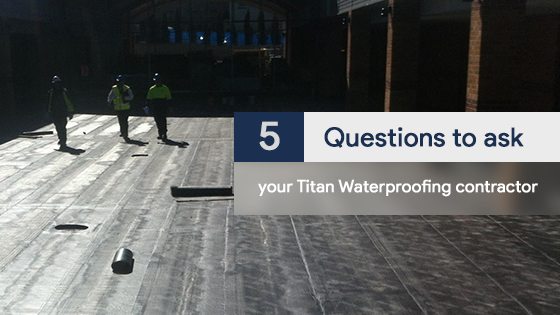 Since, we've put it out there, we wanted to encourage you to reach out to us. Ask us the burning questions, whether it's just to get to know how we do things, or to challenge us on our waterproofing expertise.
We thought we'd start you off with five of the most important questions that you should ask any waterproofing professional.
Tell me about your Service Guarantee
Titan Waterproofing's Service Guarantee backs up our confidence that the work that we deliver, will match your expectations. Why not gain a peace of mind, by enquiring about the duration of our guarantee, whether it's transferrable to future buyers, or if it covers both the workmanship and also the materials?
Have you ever had a job failure?
We're here to provide you with honest answers. With over 40 years of combined waterproofing knowledge and expertise, we are always learning and improving. The answer you'd be looking for is not zero failures, but how we have addressed the cause so that it won't happen again.
Provide me with details of your insurance policies
Titan Waterproofing's work is always carried out in compliance with WHS regulations. But you could get some concrete numbers on the amount that we cover in public liability insurance, as well as knowing when our policy expiries.
Will there be a single point of contact for everything to do with the project?
Confirm with us who our nominated project manager will be and whether you'd be able to speak to them prior to proceeding. Get an indication as to how often that person will be onsite and the various ways you can get in contact with them.
Give me three references to call
Ask to speak to clients of ours that match the location, scale and type of project that you are seeking to carry out. Set us boundaries for the references, such as projects that we've delivered in the last 12 months and clients with whom we don't have any partnerships or advertising links.
A frank and open conversation is crucial part of our customer service approach. We may have started you off with some ideas on topics to ask us about, but don't let that limit your imagination. Our Titan Waterproofing contractors are confident that we'd be up for all the tricky questions.
We want you to feel confident that your building's needs are in safe hands.
So go on, come speak to one of our consultants, by phone on 1300 761 219, email at [email protected], or filling out the enquiry form on our website.