Concrete damage can develop slowly over time in a variety of concrete structures, such as rooftops, balconies, podiums and walls. Stress cracks, foundation cracks, or spots of white powder on the surface are all the results of water damage accruing over time.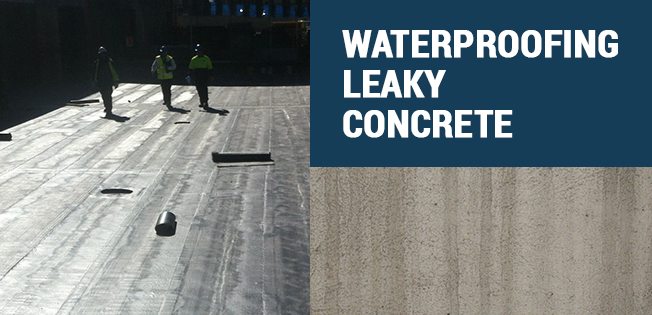 While these signs may make it obvious when water damage has occurred, it is also necessary to detect the exact location of the leaks. Concrete waterproofing specialists will identify the precise location of the leak in order to fix the problem with one or more waterproofing procedures. There are a number of solutions available, from waterproof membranes and coatings to sealants, cement rendering, joint seals and flashing. Each of these solutions comes with its' own advantages and downsides. For example, although hydraulic cement can be a cost-effective repair option, it can result in re-cracking over time.
It is also important that if there is evidence that a crack is a result of foundational damage that you do not just seal over the crack. If you have a foundational crack, then this will need to be repaired by the injection process, which fills the crack from top to bottom. The two options available for this are epoxy and polyurethane injections. Polyurethane offers the advantage of expanding once it has been injected into the crack, which allows it to be flexible in different temperatures. The downside is that while polyurethane may stop water, it does not create a fully structural fix.
For a proper structural repair epoxy is required. The downside of epoxy is that if cracking is occurring due to ongoing movement, settlement, frost, or other active or recurrent problems, unless those conditions are fixed, sealing a crack with epoxy will not prevent new cracks from forming.
While there may not be any one form of waterproofing that is prevents all future potential structural damage, there is usually a combination of solutions that can fix any concrete damage you may be experiencing. If you have concrete damage that requires repairs, contact Titan Waterproofing on 1300 761 219 to enquire about which form of concrete repair may be best for you.